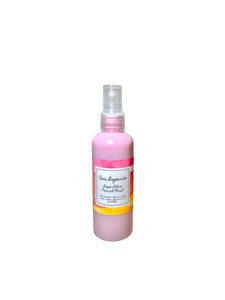 this facial mist/toner helps to refresh and hydrate the skin to bring back that natural glow you've been looking for. (4 oz.)
controls sebum production
firms and tones the skin.
tightens pores, reduces fine lines and wrinkles.
helps in skin repair.
moisturizes and softens skin.
balances your skin's natural pH
reduces inflammation, irritation and redness.
for EXTERNAL use only. handmade with raw aloe vera gel, roses, glycerin, purified water and essential oils. recommended for all skin types.
HOW TO USE:
Apply this product to clean skin.
Spray directly onto skin or a cotton ball to remove dirt and unwanted oils.
Let dry and then apply a light moisturizer.(optional)
Use twice a day (morning + night).