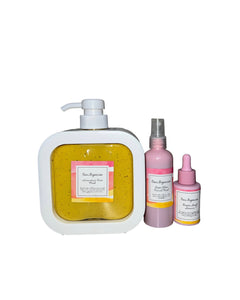 this mini skin care kit is perfect for all skin types and is a must have for achieving healthy, glowing skin. includes:
African Black Soap Cleanser/Antioxidant Face Wash/Oatmeal Face Wash/Turmeric Face Wash (choose one that would work best with your skin type)
Rose Aloe Facial Mist: hydrates skin, balances your natural pH, reduces inflammation and redness and aids in skin repair.
Green Leaf Serum: contains Vitamin A & C; helps to promote a youthful glow.
HOW TO USE:
Lather and wash well with cleanser. Pat skin dry.
Spray facial mist to desired area or apply to cotton pad to gently rub against skin.
Follow up with serum (optional)
Drink water and stay hydrated for the best results!